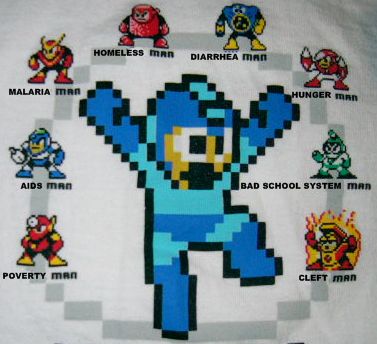 "How does helping people make you feel?" That's what I've been asked, and my answer isn't familiar from any publications on marketing or fundraising that I know of.
When I was younger, I loved playing video games. Single-player video games, without anyone watching. I didn't get anything for my virtual accomplishments – not appreciation, or respect, or friendship. I didn't even get the thrill of being good at something, because I knew that most of my friends were better than I was anyway. I didn't think I was good at these games; I didn't think I was building up any skill; in brief, I had no ulterior motives.
I just liked killing bad guys. Well, more than that, I hated not killing bad guys. When Heat Man killed my guy and stood around smugly, I wanted to throw the TV across the room, and I couldn't stop until he was dead.
What sucked about this experience was that it was all fake, and in the back of my head I knew that. In the end I felt pretty empty and lame. Enter altruism – where the bad guys are ACTUALLY BAD GUYS. (See illustration.) Sure, I don't get the same satisfying explosion when they die … I don't even know to what extent, or whether, they die. So you can think of this video game as being more in the camp of something lame, like an RPG or something. But it's infinitely better because it's real. I don't care whether the kids are cute, or whether the organizations are nice to me, or whether my friends like my decisions. As with video games, I probably spend 99% of my time frustrated rather than happy. But … Malaria Man just pisses me off. It's that simple.
I'd call my attitude toward giving straight-up altruism. I've heard people deny that real altruism can possibly exist, but I don't think any of them would challenge my description of playing Mega Man, even once I specify that it was the desired outcome, not the feelings, that kept me playing.
There are a couple key differences between my attitude and the motives I commonly hear ascribed to donors. One is the fact that I'm obsessed, and therefore I'm not looking for a pleasant minute-to-minute experience. Charities focus on making giving a pleasant, immediately rewarding experience for the donor, sometimes at the cost of being really truthful and helping the donor to understand; this is because they expect their donor to spend a few minutes, or hours at most. (And that's all they'll spend as long as there's no clear outlet for using their brain as well as their checkbook.) Another key difference is that I'm not looking to feel validated or important or un-guilty or generally "good" in any warm and fuzzy way; I'm looking to actually kill the bad guy, not just prove to myself that I tried. No matter how it makes me feel, a charity is failing me if it doesn't get results.