I'd like to welcome myself back with a simple question: why do foundations spend their money so slowly?
A couple quick numbers from 2005, according to the Foundation Center Yearbook:
Total amount of money held by U.S. foundations: $510.5 billion
Total amount of money granted by U.S. foundations: $33.6 billion
33.6 billion divided by 510.5 billion: 6.6%
6.6%. Assuming that most foundations invest their assets at a moderate level of risk, this means that at this rate, all those assets will be given away by around … never.
Now, I know there are good reasons for foundations to give away their money gradually, not all in their first year. They need to gain experience and administrative capacity; they need to get to know their sectors and partners and options; they need to support charities over time rather than dumping their money on them, because this helps to ensure accountability.
All of this would justify foundations' aiming to stay in business for up to around 10-20 years. Any more than that, and we're looking at a staff and even generational turnover that would render these benefits moot. So why is it big news that the Gates Foundation is aiming to give it all away this century? Why, honestly, are the Carnegie Corporation and Ford Foundation still around, long past the point where anyone can reasonably claim to represent the founding funders' wishes? Why are foundations in aggregate giving away money at a pace that indicates they expect to last longer than any U.S. company ever could – indeed, longer than the U.S. itself is likely to?
Is it because they think the returns from holding stocks and bonds are greater than the returns from enabling more people to help each other?
Is it because the law only requires that 5% of assets be given away each year? The law doesn't require me to give anything to charity, but I still do it because it's right (and presumably a foundation exists to do what's right). And if I had to give 1% of my income to charity every year, I'd still give more than that.
Is it because they can't find enough work to fund? In that case, what's with all the kashmillions of charities bombarding the general public by phone every day, begging for more money so they can fund what presumably are currently possible but unfunded activities?
Are those charities all doing useless or fraudulent work? Have the foundations checked them out? If so, wouldn't it be nice of them to let the rest of us (the general population opening our meager checkbooks year in and year out) know? On one hand, I think everyone should give – on the other, you have to ask how much sense it makes that charities have all come begging to Joe and Jane Sixpack while $500 billion (enough to fund the country's 200 largest charities 6 times over) of money specifically earmarked for giving away sits in bank and broker accounts.
I would really appreciate if people in the know could weigh in on this question because this situation makes no sense to me. My personal best guess would attribute foundations' sitting on their hands to two factors: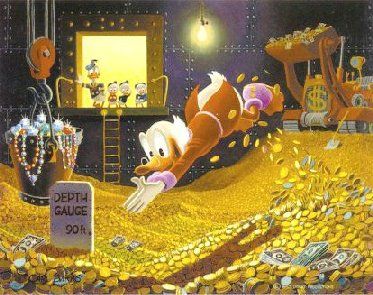 1. Excessively narrow mission statements. Not only are foundations generally obsessed with "innovation" and "attacking root causes" rather than "helping people as much as possible" (something I'll complain about more later), but they tend to spec out extremely specific, narrow guidelines, and thus force themselves into a position where very few existing world-improving efforts qualify for funding. This forces charities to design new programs around their funding guidelines; end result is that we have a huge need for funds and a huge glut of funds that can't clear, because foundations have pre-articulated their priorities and thus stopped them from syncing with the problems actually experienced by the world. I'd call this a tragic mess.
2. Plain old bureaucracy, inertia, crappiness, and crap. It's easier, simpler, and more job-sustaining to give away 5% a year than it is to pour yourself into improving the world. (Note to foundation funders: if the people you've hired to staff your foundations prefer the former to the latter, you should be ashamed of yourself for the horrendous job you did in hiring.)
Others, please weigh in. I will be surprised if you can convince me that a world this needy, a charitable sector this underfunded, and $500 billion sitting in savings don't add up to a broken system and a tragedy for those in need. But I'm listening.