I find a huge disconnect between what others mean by "corporate social responsibility," and how I think of it. Here are some of the things I don't think are part of corporate social responsibility, pulled from a scan of dotherightthing.com (think CSR meets Digg):
People, not corporations, should give to charity. In fact, every penny that a for-profit corporation gives to charity is a penny that it could have given to its shareholders. Those are people, as capable of giving to charity as any other people. And they're capable of giving using their own judgment and personal values, rather than being stuck with the charities that their CSR committee (most likely more concerned with marketing than with doing good) chooses. If you're mad that charities are underfunded, yell at the shareholders, not the companies.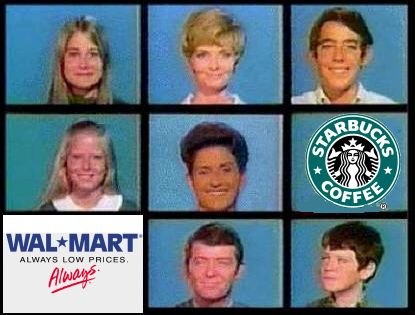 More broadly: a corporation is not a person. A person should contribute to society, spend time with his% family, take care of himself% first but also give to charity, etc. (You haven't heard that you can now gender-neutralize any word by sticking % on the end? Well, I just invented it. Pass it on.) A corporation is a legal entity whose sole purpose is to provide particular goods or services. A person's life should be well-balanced; a corporation exists to do one thing well.
If the world were a family, the businesses wouldn't be the cousins and uncles; they'd be the chores assigned to different people on different days. You wouldn't complain that taking out the laundry is wrong because it doesn't involve petting the cat, even if petting the cat is a good thing to do. They're just two different tasks that need doing.
That's why I think of a socially responsible company, broadly, as a company that uses only what it pays for and charges only for what it provides. Business models built on under-regulated pollution, invasion of privacy, or other violation of property rights are irresponsible. Business models built on addiction, manipulative/deceptive marketing, or flat-out snake oil are irresponsible. And of course, there are some products that I simply feel that everyone (including the consumers) would be better off without, but my opinions on those are pretty personal. If a business can stay away from these dirty tricks and still turn a profit, that means it's providing something that people are willing to pay for, enough to justify the cost of making it. For a legal entity, what more should you ask?