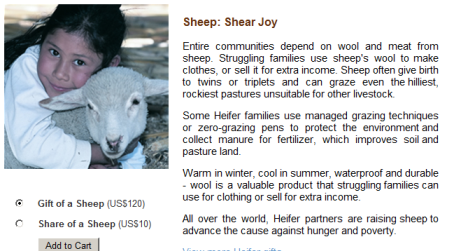 One of the questions we struggle with a lot is the question of what impact a donation has – i.e., what happens because of your donation that wouldn't have happened otherwise? In other words, what do you get for your dollar?
It's a tricky question, especially for relatively small donations going to relatively large organizations. A future post will discuss a couple of approaches we've taken to answering this question; for now I want to focus on an approach we haven't taken, that of literally attributing each donation to a "set of purchased items."
A good example is this GlobalGiving project, which promises to educate 1 woman for every $45 you give. Organizations like GlobalGiving, Kiva, DonorsChoose and Heifer International make similar offers.
We've never been sure what to make of projects like these. For example, I see two interpretations of the "teach 4200 women" project:
The pitch is literally true. For every $45 that comes in, one woman will be educated. Therefore, if the project is underfunded by $45, one qualified and interested woman will be turned away from the class.
Funds are fungible. The organization conducting the class (Women for Women International, a large international aid organization) has already drawn up a full budget for the project, and will fund it with "general" funds if necessary. Therefore, for every $45 you give, the organization moves $45 of its "general" funds back into the "unrestricted" pool, meaning that your $45 is effectively an unrestricted donation to the organization running the class.
I'm guessing that #1 is the one that donors subconsciously picture when they are drawn to the "tangibility" of a project. It's the scenario under which a donation is literally matched to a discrete person or item. Yet if #1 were the case, this would seem a horribly inefficient way to run projects – spending all the overhead to pay staff, set up the class, etc., and leaving one woman out because of a $45 shortfall. (Or in the case of Kiva, setting up a micro-bank and then turning away a screened, qualified borrower because of a missing $850.)
Yet if #2 is correct, your donation is really an unrestricted donation to a large organization; to understand your impact, you need to understand the entire organization.
GlobalGiving's FAQ suggests a mix of the two scenarios: sometimes a funding shortfall is covered by other funding, and sometimes a project is scaled back or canceled when funding falls far short. As a side note, I would guess that when a project is scaled back, the "cost per person" generally increases (since the program's overhead can't fall fully in proportion to people served).
Other organizations are explicit that #2 is the case (see small print on this "buy a sheep" page).
All in all, I'm skeptical of any claim that says "your $1000 buys X." It's a good way to make things feel tangible, but a donor truly trying to understand his or her impact should take a different approach. (Some possibilities will be discussed in a future post.)