We've written before about problems with the way a microfinance institution's "repayment rate" is commonly cited. We've been surprised to find that most institutions do not report what most of us would think of as a "repayment rate," i.e., the percentage of loans/dollars due that have been paid on time. Instead, they report proxies such as "portfolio at risk" that can (theoretically) be very different.
We now have an example of just how different they can be. ID-Ghana, a microfinance institution, has given us permission to post its application for funding from GiveWell. Page 2 discloses that "The write-off ratio has shot up lately because of the clean up that followed the phase out of our old loan products which proved to be inefficient and impactless," yet the repayment ratio is reported as 99% (same paragraph). That's because the definition of "repayment ratio" being used ignores loans that have been defaulted on and written off. Only "at-risk" (but still-on-the-books) loans lower this "repayment ratio."
These charts show how drastic the disrepancy is, particularly from June 2009 on: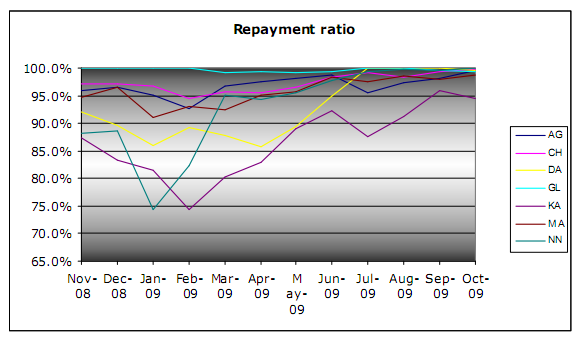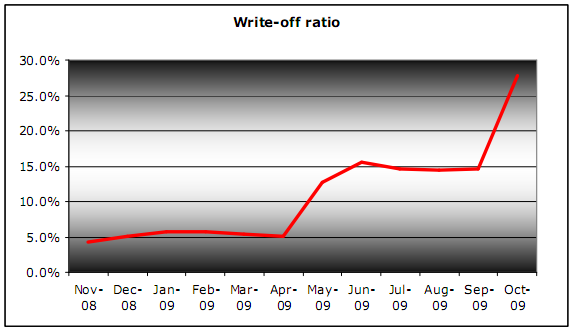 To be clear, we think ID-Ghana's reporting is entirely consistent with standard reporting practices. To a large degree, that's what worries us. By industry standard reporting practices, a 99% "repayment ratio" can be consistent with a 30%+ default rate – and is in this case.
This is why we've insisted on requesting what we call the "real repayment rate", defined as the percentage of loans that have been paid off on time divided by the percentage of loans that have come due over a given time period ("loans" here can refer to number of loans or dollars lent).
What has shocked us is how few microfinance institutions are able to provide the real repayment rate. In fact, all of the major U.S. microfinance institutions we've contacted (excluding FINCA, which declined to apply for funding at all) have explicitly told us that they cannot or will not provide real repayment rates for their partners.
We'll be writing more about the Small Enterprise Foundation, the only institution that we've seen be fully clear about its repayment rate.