There's no question that "giving a goat" has caught on, as a way of getting people to support charity – rather than consumer goods – for the holidays.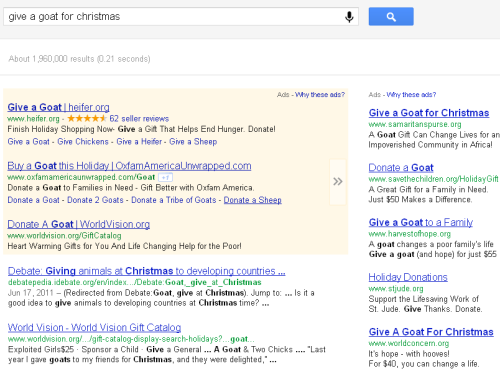 I certainly don't need an iPad or a new TV, and I encourage friends and family to make donations in my name rather than sending me gifts. However,
I'd rather not get a "goat"
because:
I'd have unanswered questions about the effects this gift might have. Will the person who receives the goat be well-suited to receive it? Will they mistreat the goat? Will the goat produce enough to justify their investment in it? Will the local community perceive unfairness in who is chosen to receive the goat?We've found livestock-gift programs to be among the more poorly documented developing-world aid programs out there. We have little sense of whether and when these concerns apply.
The model of giving out goats fundamentally doesn't make much sense to me. We wrote in 2009 that giving out livestock seems to have the same challenges as giving out cash, plus additional challenges. This isn't to say that it's never a good idea. But supporting a model with such fundamental questions would make me uneasy unless I saw those questions being addressed in an intelligent, context-specific way. (Note that there is a charity giving out cash.)
It's not really a goat anyway. See our 2009 discussion of donor illusions: chances are, the fine print says you're really just giving a donation to the charity, not any specific goat. Matching your dollars with a specific goat doesn't (in our view) really make sense logistically, so we're glad that it isn't actually happening.
I think there are much better ways to help people with donations. This is the most important point for me. Maybe "giving a goat" really does help people – but I don't believe it helps them as much as possible given our other options. GiveWell's top charities carry out proven, cost-effective interventions; they have strong track records; they have better transparency and accountability than any livestock-focused programs I know of. They can generate incredible value for your money, such as saving a life for $2000 or keeping someone worm-free throughout childhood for $5. Those are our best evidence-based estimates (the details are all online), not marketing pitches.
Giving a goat means supporting the best story for donors, not the best solution for the people I want to help. If you agree that there are better ways to help people than "give a goat," you should be worried about the message you send when you opt for the latter. To me, the whole point of "giving to charity for the holidays" is to take the focus off of our own wants and put it on helping people who have much more fundamental needs. This goal is cheapened if we support any charities other than the best we can find.
We like the idea of giving to charity in someone's name as a gift for the holidays. We've recently made this possible for our top charities. We just think these gifts should be made to the best charities possible.