If you're here to read the latest update on the GiveWell project, see this post.
There are a lot of possible objections to my last post; to voice them, I'm bringing back our old friend, the Straw Man, for an exclusive interview.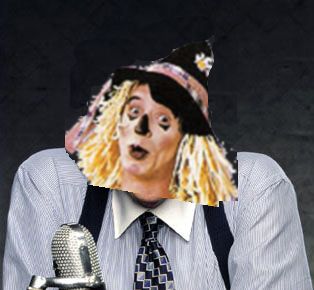 Straw Man: When you say you prefer charity (helping individuals) to philanthropy (addressing root causes), do you mean you ALWAYS prefer short-term to long-term solutions, and that all research/advocacy/outreach programs should be illegal?
Holden: No. But I think there's value in making charity the default mode, asking for a higher burden of proof before switching to more difficult and ambitious methods. I think most foundations go in the opposite order, jumping straight to "How can we wipe out this problem?" The two examples I gave in my last post seem like really good ones.
Straw Man: But don't you think that by helping individuals, you'll be perpetuating the very problems you seek to address??
Holden: How so?
Straw Man: Hang on, I'm still recovering from how cool I sounded just now. OK. There are a couple different arguments that charity perpetuates the very problems it seeks to address. First, the lefty one: by helping people, you'll give the government an excuse to ignore them.
Holden: Are there any instances in recorded history where a popular social program lost support because of the argument that charity takes care of it? I doubt it, and here's why. A charity isn't a reasonable candidate to replace the government until it's covering all affected parties (which generally is not a possibility, even in the long term) – and until that point, the charity's successes are just evidence that more of its activities are needed. If a charity addresses 1%-95% of the needy population, and it's clear that what it's doing is working and that that 1%-95% is far better off for it, that seems to me like it helps rather than hurts the case for universalizing the program. Anecdotally, I've already seen this with NYC education – the state is willing to partner in "experimental" initiatives (small schools, for example) that already have some track record thanks to the voluntary sector.
"This is a great program, it clearly works, it's clearly good for our society, but we shouldn't allocate government funding to it because 501(c)(3)'s already have it covered" doesn't sound like an argument that would fly in an actual political contest (let me know if there are any examples of this happening). It sounds like the kind of argument that people are afraid "other people" will be snookered by.
Straw Man: OK, now the righty argument that charity perpetuates the very problems it seeks to address. By providing people with free health care, education, etc., you remove the incentive for them to pull themselves up by their own bootstraps.
Holden: I don't think I'll ever understand where people get the idea that depriving someone of basic needs is a necessary, or appropriate, way to motivate them to work. All of the most driven, entrepreneurial, hard-working people I know have never had to worry about having food, shelter, health care, or education. In fact, most of them have never had to worry about anything much. People want more than they have, period (whether we're talking about money, meaning, or anything else you get from hard work). So what if food surpluses mean farmers don't have to grow food anymore? They'll do something else useful – just like the rest of us who've never had to grow food.
Straw Man: But what about sustainability? By providing free medicine, we could be stopping programs that seek to provide cheap medicine. That's not just a waste of money – it could be stopping people from providing services in much more sustainable, expandable ways.
Holden: This is a real concern. It's one of many reasons that charity has to be researched carefully and monitored constantly. In fact, I think one of the questions any charity has to ask itself is, "How much can our clients pay for our services?" They should charge as much as possible, until the point where they'd be pricing out people who need help. And they should always be revisiting this question.
That said, leaving people to rot until/unless "the market" solves their problems is irresponsible. There's no question that there are people out there who need help they can't afford to pay for, and this fact isn't going away anytime soon (especially if nobody's providing them with the things every human needs to become self-supporting). Serving people who need help, while constantly reassessing how much they need it, seems like the only appropriate road to take.
Straw Man: So to sum up: you just like Band-Aids, and you don't want to see real change in the world.
Holden: First off, every person helped is real change; secondly, I do want to see large-scale change, but I'd rather learn as we go than spend 20 years trying to implement an untried master plan. What I really want to see is a kind of "research" grounded in reality: donors simultaneously helping people and learning how best to help people, by documenting and discussing what they've done. This approach – transparent, heavily evaluated, results-oriented charity – can't solve all our problems or fully replace direct assaults on "root causes," but it has the potential to build the evidence and knowledge we need for enormous changes, as well as making sure that we're doing some actual good along the way.