This year, we've been looking into the cause of disease research. We're trying to find outstanding organizations for donors interested giving to help out with research efforts to develop cures, or new treatments, to cancer and other diseases.
We figured that a logical place to start would be with two big-name organizations: the American Cancer Society and Susan G. Komen for the Cure. The first question we asked was "What do they do?", and the first thing we found surprised us: funding research into cures or new treatments is a relatively small part of their activities.
American Cancer Society
The American Cancer Society's 2008 IRS Form 990 demonstrates that ACS is not primarily a research organization.
The following chart shows a breakdown of the American Cancer Society's Program expenses in 2008; explanatory notes follow. (Note these figures include the payments to affiliates — which themselves account for about 1/3 of the American Cancer Society's expenses — according to the breakdown in Statement 7 of the 990.)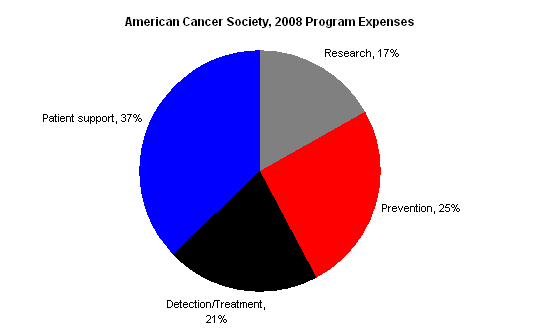 The 990 offers these notes to explain the different categories (quoted from Part III of the 2008 990):
Patient support: Programs to assist cancer patients and their families and ease the burden of cancer for them.
Prevention: Programs that provide the public and health professionals with information and education to prevent cancer occurrences or to reduce the risk of developing cancer. (My emphasis)
Detection/treatment: Programs directed at finding cancer before clinically apparant & that provide information about cancer treatments for cure, recurrence, symptom management, and pain control.
Research: Financial support provided to academic institutions and scientists to seek new knowledge about the causes, prevention. and cure of cancer, and to conduct epidemiological and behavioral studies.
Susan G. Komen for the Cure
Susan G. Komen's 2008 audited financials paint a similar picture: it is not primarily a research (or research-funding) organization.
The chart below shows Komen's 2008 program expenses, which include the central organization's activities as well as those of the affiliates.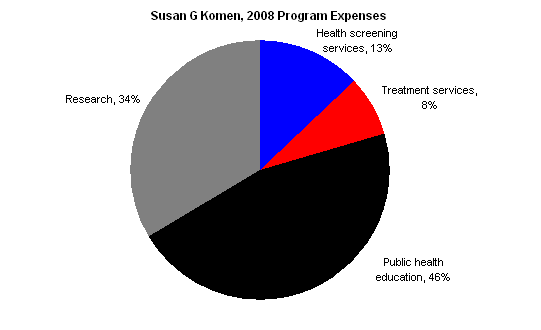 Komen's 2008 Form 990, Schedule O offers additional explanation about the "public health education" category. The following is taken from the beginning of the section discussing its public health education program:
Komen has formed advisory councils to address the breast health and breast cancer needs of people from different cultures and backgrounds… We have developed a variety of educational materials for specific audiences in English and most are also available in Spanish… Examples of our education materials include – Breast Self-Awareness (BSA) cards in 12 languages for 14 specific audiences – General breast health and breast cancer brochures and fact sheets – Booklets with support information for survivors and co-survivors – Outreach resources including breast self-awareness information in CD-ROM, DVD or VHS formats.
Bottom line
We haven't yet established anything about whether the American Cancer Society or Susan G. Komen is effective (or ineffective) at accomplishing their missions.
But we, at least, have been surprised by this fairly basic information.
Both organizations seem to spend relatively small portions of their funds on researching new treatments or cures.
Both organizations spend significant portions of their funds on "raising awareness" type activities.
I personally feel more negative on the two charities as a result of this basic check, because (a) I find research into cures/treatments as having a potentially huge upside in humanitarian terms, while public education and provision of existing treatments (in the developed world) don't seem nearly so promising to me; (b) the "education" type activities are a red flag to me that research, specifically, may not have room for more funding.
Others may disagree, and I may change my mind after getting more information. But I wonder how many of the donors to these organizations have considered the variety of different activities that "fighting cancer" can mean, and considered whether they'd rather give to an organization that's focused on a particular one of them.