In 2016, we tracked a total of $91.6 million given to our top charities as a direct result of our research.
In addition to this $91.6 million, we also directed $13.3 million to our Incubation Grants program.
A note about this report:
We have yet to complete all of the work necessary to publish our 2016 metrics report. There are a number of reasons the report has been difficult to produce this year. In our view the main factors responsible for this delay were the increasing number and complexity of the data sources used to track donors giving to our recommended charities and competing priorities that required the attention of the staff member who produced the 2016 report. The delay was not a result of a decreased dedication to transparency.
In mid-September, we committed to publishing an update on our key metrics (money moved and web traffic) by October 1st even if we were unable to complete our report by then. We have failed to complete our full report, and, today, are publishing an interim update consistent with our commitment.
Unfortunately, we don't have an updated estimate about when we'll publish our full metrics report. It is possible that it will take us several months or more to complete it. We view this as a major failing on our part, and we plan to correct this in the future.
For the purpose of this report, please note:
Summary of influence:
In 2016, GiveWell influenced charitable giving in several ways. The following table includes (a) donations from donors who cited our research when donating to a third party (or cited a source that recommended our top charities because of our recommendation), (b) donations to GiveWell that we granted to top charities and standout organizations, and (c) grants made on our recommendation, through GiveWell Incubation Grants and the Open Philanthropy Project.

Total money moved:
In 2016, GiveWell tracked $91.6 million in money moved to our recommended charities. Our money moved figure only includes donations that we are confident were influenced by our recommendations. In our full metrics report, we plan to include our best guess of the total funding that was given to our top and standout charities due to our research; the numbers in this blog post include only donations that we could specifically track as being due to our research. The methodology used to generate the numbers in this post was very similar to what is described in our 2015 metrics report, with the exception that, for 2016, we counted more donations through partner organizations such as Giving What We Can. We now believe that we should have included those donations last year.
Open Philanthropy gave an additional $13.3 million to the GiveWell Incubation Grants program, to support the development of future top charities, and GiveWell granted $400,000 in participation grants to organizations that applied for a top charity recommendation, from funding provided by Good Ventures for this purpose. We do not count either of these grant types in our headline money moved figure.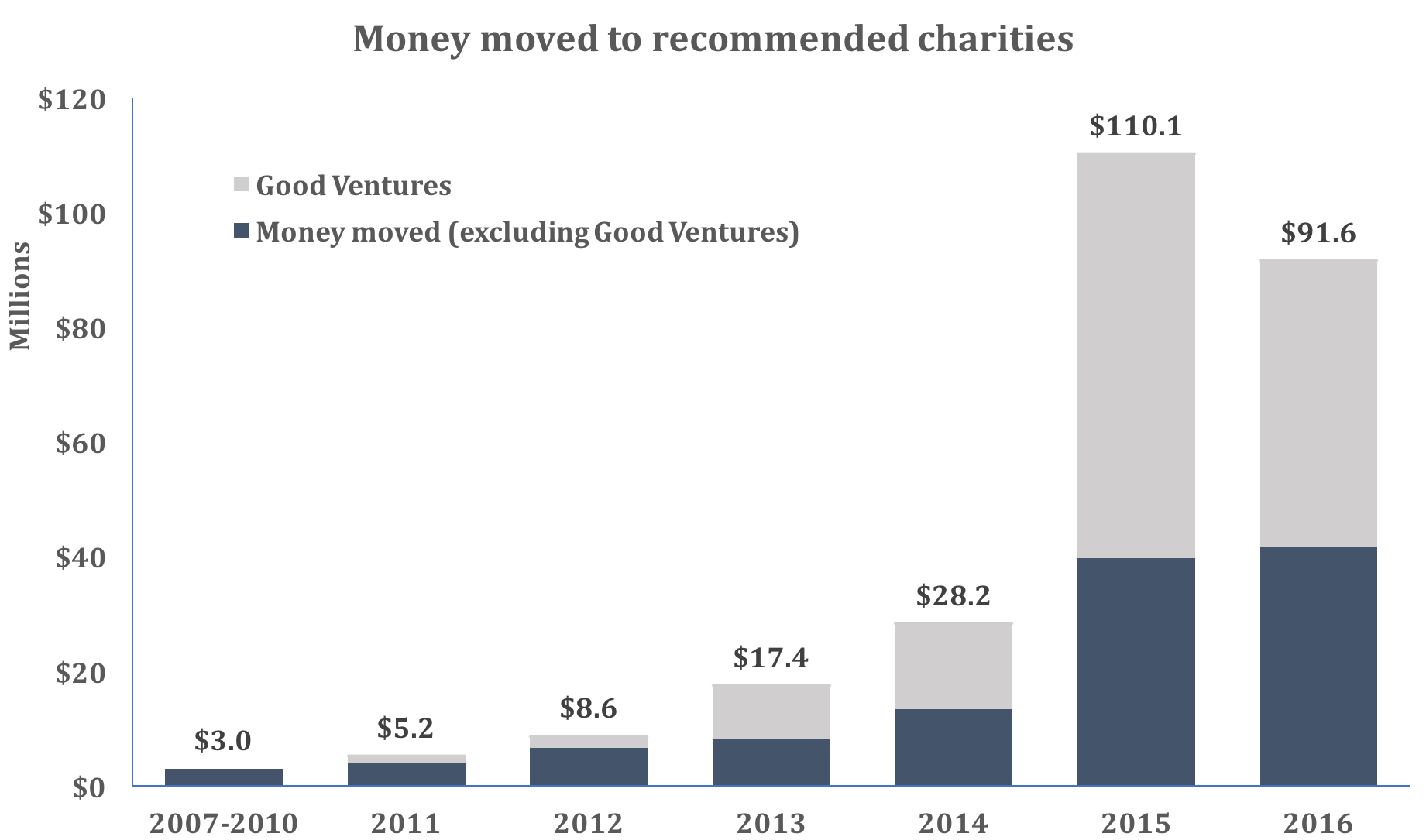 Money moved by charity:
Our seven top charities received the majority of our money moved. Our six standout charities received a total of about $3.1 million.

Addition on October 13, 2017
Although we still have not completed the full metrics report for 2016, a question from a reader prompted us to add a brief addition to this post regarding the slow growth in total money moved in 2016. We responded below in a comment and pledged to make an addition to the post itself (this addition).
The total money moved we tracked in 2016, excluding Good Ventures, grew a modest amount from $39.7 million in 2015 to $41.6 million in 2016. This 5% increase represents a sharp decline in the rate of growth of the money moved to our recommended charities on the basis of our recommendation, which is an important indicator of our impact on charitable giving. In previous years, our money moved from donors other than Good Ventures increased by 196% (2015), 65% (2014), and 23% (2013). This decrease reflects a shift in the distribution of donations from donors giving very large amounts of money to those giving more modest amounts as well as a decrease in the number of donors giving over $1 million each.
Four donors giving $1 million or more gave a combined $10 million in 2016. In 2015, eight donors donated $1 million or more to our top and standout charities for a combined $21.3 million in donations. In 2016, three of these donors kept giving at the same level. Another three didn't repeat their donations and two reduced the size of their donations. Based on conversations with four of the five donors who reduced or didn't repeat their donations, we don't believe that the change in their donations reflects a change in their assessment of the quality of GiveWell's research. In one case, we were never able to get in touch with the donor (who gave $2 million), so we don't have more information about why their gift didn't recur.
This decline in donations from donors giving very large amounts was offset by growth among donors giving less than $1 million, which increased from $18.4 million in 2015* to $31.6 million in 2016. The full report will contain additional details on the distribution of these donations among the different categories of donor sizes that we track, but we can currently say that we saw an increase in the number of donors giving at every level below $1 million or more. We view this growth as a positive sign that GiveWell's donor base is broadening and may be more sustainable over time. We will complete a more thorough analysis of the changes to our donor base as part of the complete 2016 metrics report.
*We incorrectly published $18.1 million in our comment below; the correct figure is $18.4 million (see pg. 2).