This is the second post (of six) focused on our self-evaluation and future plans.
This post lays out highlights from our metrics report for 2011. For more detail, see our full metrics report (PDF).
1. In 2011, GiveWell moved $5,285,992 to our recommended charities, a significant increase over past years.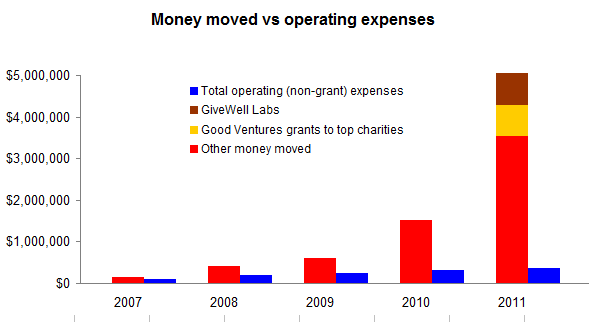 2.
While our #1-ranked charity received the most funding, many organizations received significant funding due to our recommendations.
Most of our money moved went to AMF (our #1-ranked charity as of December 2011), which received over $2 million. SCI (our #2-ranked charity as of December 2011) and VillageReach (our top-rated charity through November 2011) both received more than $600,000. Three additional organizations received more than $75,000 as a result of our recommendation and one other organization received more than $50,000.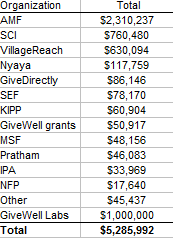 3.
Web traffic continued to grow.
4. The main sources of increased traffic were
Google search (AdWords and organic).

5.
The vast majority of our money moved came from a relatively small set of donors giving very large gifts.
Good Ventures grants to our top charities as well as funding to committed GiveWell Labs accounted for approximately 1/3 of our total money moved ($1.75m / $5.3m). Excluding those funds entirely, 55 donors giving $10,000 or more accounted for 70% of our money moved. In the table below, and in the following analyses of our 55 largest donors, we exclude funding from Good Ventures to our top charities and funding committed to GiveWell Labs.

6. These 55 donors tend to be (a) young (for major donors) and (b) most often employed in finance or technology. Close to 80% of our money moved (about whom we have information) comes from donors who are under the age of 50; approximately 45% comes from donors under the age of 40. (Note that we did not always know donors' ages and, in some cases, made our best guess.)


7. These major donors most commonly find GiveWell because they are
proactively looking for a resource that will enable them to give more effectively; otherwise, donors are most likely to learn about us via people like Peter Singer, mentions in the media (either print or online).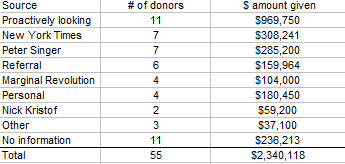 8. Based on the major donors who responded to our survey, approximately
2/3 of the funding was reallocated from other organizations; approximately 1/3 were just beginning to give.

9. Most commonly, funds were reallocated from other international organizations.

10.
GiveWell's website now processes more giving than GuideStar's and about 42% as much as Charity Navigator's,
though it offers far fewer charities as options. This comparison provides evidence that the growth we saw in 2011 is due not to generalized increases in online giving or use of charity evaluators, but rather to GiveWell-specific factors. (Note that the GiveWell figure in this chart includes only what was processed through our website – not all money moved – in order to provide a valid comparison to the others, for which we only have online-giving data.)